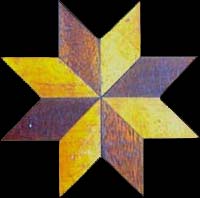 American whale oil lantern in a rare small size, Ca. 1830-1840,  with blown onion globe, original burner, with star and diamond punch work.  These small New England lanterns are becoming so hard to find!  This one is in excellent working condition! Measuring just  8" tall to the top of the chimney, 10-1/2" to the top of the ring, and approximately 4-1/2" wide at the globe and 3" wide at the base.  A terrific early
lantern!

© 2001 - 2012 Sheridan Loyd American Antiques

All rights reserved.

$1,150.00         Sale Price $850